More about PARK LiFE
Becoming a parent changes everything, regardless of whether your first-born is a human baby or a fur-baby!
3 Years ago we became pet parents to Penny, and were horrified by some of the
ingredients found in market-leading dog biscuits, so we started to bake our own
treats, which is where the obsession began.
Roll on to today, and our family has grown, and we now have a range of delicious treats, that are always made with human quality ingredients, and no hidden
junk.
We call this the "Happy Belly Promise" and something that we never compromise on.
PARK LiFE…just Naturally Guilt Free Dog Treats.
Treat ,Play Love.
A Family Business
We are a Family Business, and although our family has grown to include human babies (as well as the four-legged kind), we'll never forget the joy of becoming pet parents for the first time. It's this that inspires us to create the the best possible products conceivable, for likeminded pet parents, who see their dogs as babies and treat them as part of the family.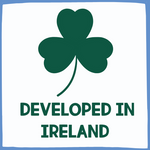 Irish & Proud
We are an Irish Business and all of our design, research, ideation, and recipe development is done here in Ireland. Where needed we out-source our manufacturing from trusted partners around the world to bring the best possible product to our customers.
We may be from a small island, but our dream is to be the world's most loved dog treat brand. 
100% Recyclable
All of our products are made with packaging that is 100% Recyclable. Our goal is to be 100% plastic free, and Carbon Neutral by 2025, helping to leave behind a
better world for our fur-babies', fur-babies', fur-babies.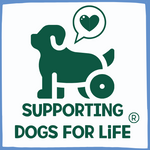 Supporting DOGS FOR LiFE
At PARK LiFE we are committed to supporting charity partners that help bring people and animals closer together, We call this initiative 'DOGS FOR LiFE'.  Whether it's donating wheelchairs to help a dogs walk again, or providing lonely members of the rural community with companion dogs, there's no charity too big or small. Please get in touch with your charity suggestions at info@parklife.dog.